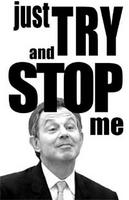 The UK government has been using the current security crisis, ironically produced by its own policies, as a means to bring in new, and many would say, draconian legislation.

One such law is an exclusion order for the area around Parliament. Due to come into effect from 1 August, this exclusion zone prohibits demonstrations, even one-person demonstrations, unless the police expressly permit them.


A large demonstration against the protest exclusion zone is expected on Monday.

Click here for further details and visit Bloggerheads for arguements on why you should be there!